| | | |
| --- | --- | --- |
| | THE WORLDS MOST EFFECTIVE DEFENCE SHIELDS | |
\ The Multifunction Shield Spitting Cobra is an innovation in the global market and represents a step forward in the development of a shield to defend against flying objects and strokes, the most functional in terms of modern equipment for police officers, soldiers or security guards.

\ The Multifunction Spitting Cobra Shield increases the safety of operational staff (Operating Officer), its efficiency and offers new opportunities in tactics in controlling the riot control.

\ The shield is a non-leathal anti riot system, which with its appearance and psychological effects (led light pointer, alarm/siren, spark and electroshock sound effect) affects the opposite side, which greatly helps to avoid physical contact between the opposing sides.

\ Security key (pin) in case of alienation of the shield activates an alarm sound and prevents the use of electroshock device. The canister itself is no longer useful and should be activated only with a Shield Spitting Cobra.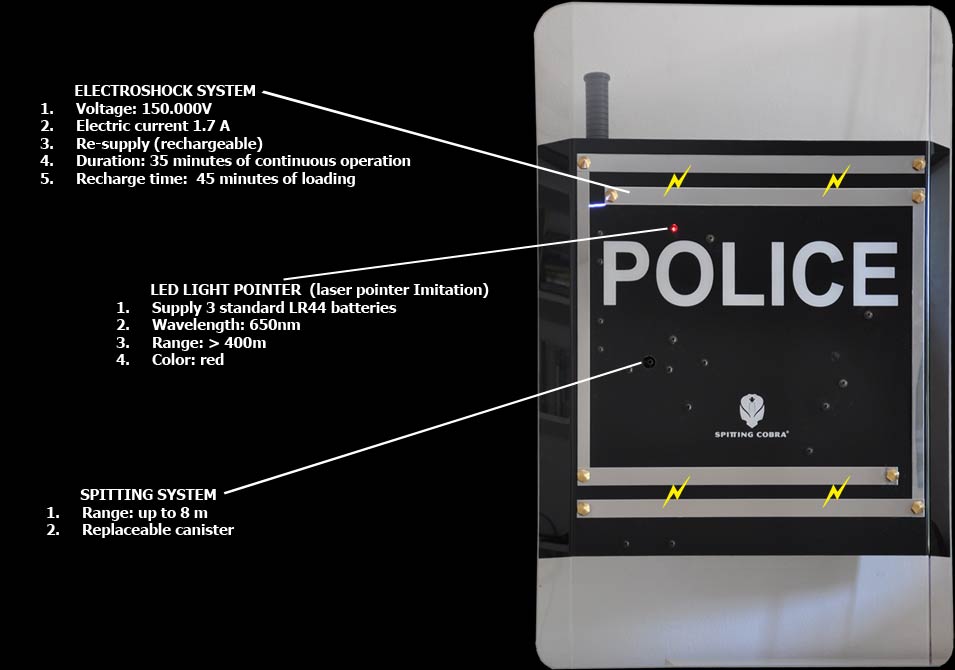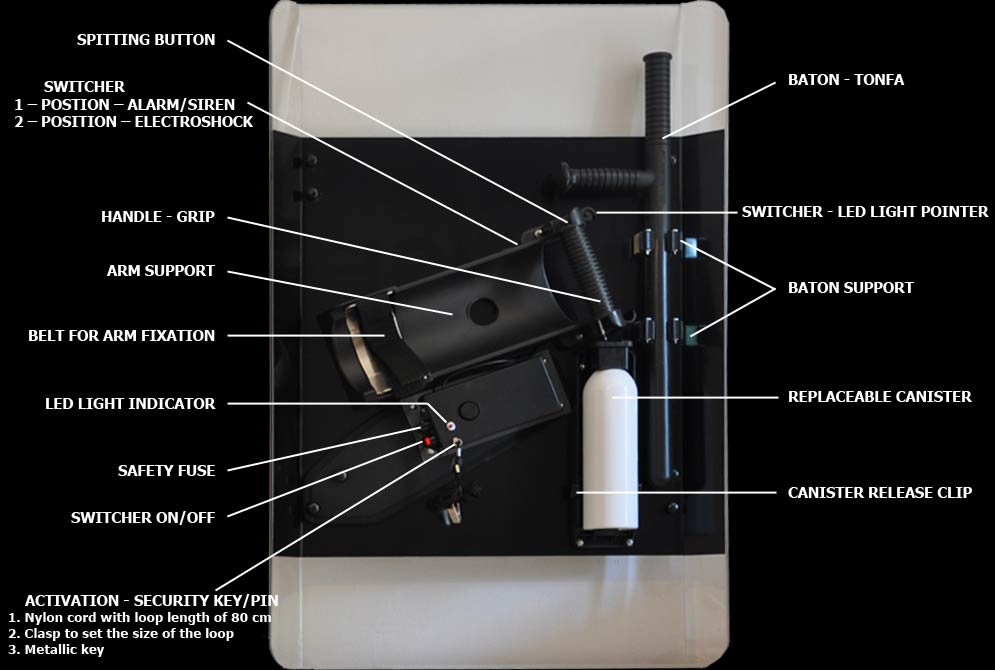 / Transparent shield plate was selected from the leading manufacturer of polycarbonate LEXAN® brand, which has been tested in restoring order at mass gatherings and for interventions in the riots. Polycarbonate shield bears great features: durability against shocks, high chemical resistance, heat resistance, UV ... The shield is UV protected and offers 10-year warranty against loss of light transmission.

// Cleaning - For small areas wash sheet with a solution of mild soap and lukewarm water, using a soft cloth or sponge. For larger areas clean surface with a high pressure water and/or steam cleaner. Do not use abrasive cleaners or detergents or sharp instruments which may scratch.

/ You can choose from simple polycarbonate - transparent shields (plate + handle) to the fully equipped in optional sizes.

/ All shields have folded edges, which increases user safety and increases the compactness of shield horizontally and vertically.

/ Research shows that the plate thickness of 4 mm is best compromise of lightweight, compactness and impact resistance.

/ With the 2011 model we were able to extend the effect of electro-shock from the bottom to the top of the shield, but the customer has both options available.

/ On customer request we can print the words, as "police" in any font and font size.


| | | |
| --- | --- | --- |
| | REDEFINES CROWD CONTROL AND ANTI RIOT INTERVENTION | |